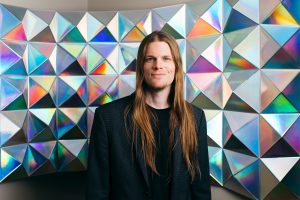 "The walls around you are not real"
"Our lives are full of walls and social boundaries that are meant to keep us in a box, but we can break through them with art."  
-Phil Hawkins
Biography
Born in Omaha Nebraska, Phil Hawkins is a multidisciplinary contemporary artist focusing on installation, sculpture, and painting whose work is recognized for its abstract forms that manipulate space.
Upon receiving his B.F.A. in Arts Management from Bellevue University and Associates in graphic design from Metro Community College in Nebraska, Hawkins has continuously worked in design, printing, metal casting, fabrication, and refining studios with artist colleagues. Hawkins has also taken part in revitalizing historic abandoned building spaces such as Nebraska's First National Bank headquarters vault space built in 1917 into a creative art/work studio and venue for the arts. Hawkins's explorations of architecture in US cities, overseas cities, and Caribbean region have had a major influence on his work.
Hawkins is now based in Los Angeles and his work continues to gain national and international interest and has been included in private and corporate collections throughout the Midwest and the west coast including RIC headquarters and Hy-Vee Nebraska location. Phil's work has also been published in periodicals including The Reader, Vogue Spain, the Omaha World-Herald, Fox 42 News channel and won several OOEA awards including 2017 Best 3-D artist, Best solo exhibition, and best group show in Omaha, Nebraska.  In 2018 the United States Patent and Trademark Office issued a design patent for Hawkins's jewelry line.
CV: Exhibitions/Press/Corporate collection
Statement
"My art is multidisciplinary using drawing, painting, sculpture and installation. The combination of these elements are closely related to different experiences throughout my life. As an artist I feel a strong desire to investigate these forms of art and use them as tools to express my vision of how I see the world."
"My goal is to create a design that compliments the flow and movement of people coming in and out of a space. Upon observing the space in person, I conceptualize the design based on my studies of the interior elements. Once the design is sketched, the final stage is deciding on the colors and textural applications. I take color samples and textures from the surroundings and incorporate them into the design. The installation communicates with people through a language of interchanging light, reflection and multiple angles. Its sensitivity to light and personal positions of engagement presents a different experience for every viewer. As the design wraps around the corner and progressively enlarges in scale from one side to the next, the viewer experiences a fourth dimension."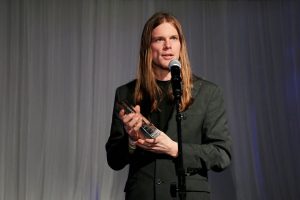 3x Omaha Entertainment Arts Awards (OEAA's) winner
5x OEAA nominee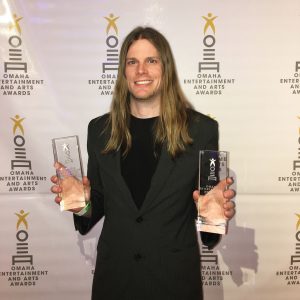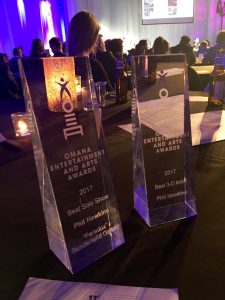 Hawkins was one of 11 artist selected in 2016 for the "Nebraska Rising" exhibition at Bemis Center for Contemporary Arts, and has had work commissioned from Joslyn Art Museum while carrying his jewelry and other merchandise in the Joslyn Art Museum Gift Shop.  On August 25th 2017 Phil exhibited a site specific installation at the J2 gallery in Chicago's Wicker Park/Bucktown arts district.  Phil was one of four artists selected to exhibit in the 2017 "One Wall" exhibition at J2 gallery. The Lois Lambert Gallery & Gallery of Functional Art in Santa Monica California also carries a line of Phil's Jewelry.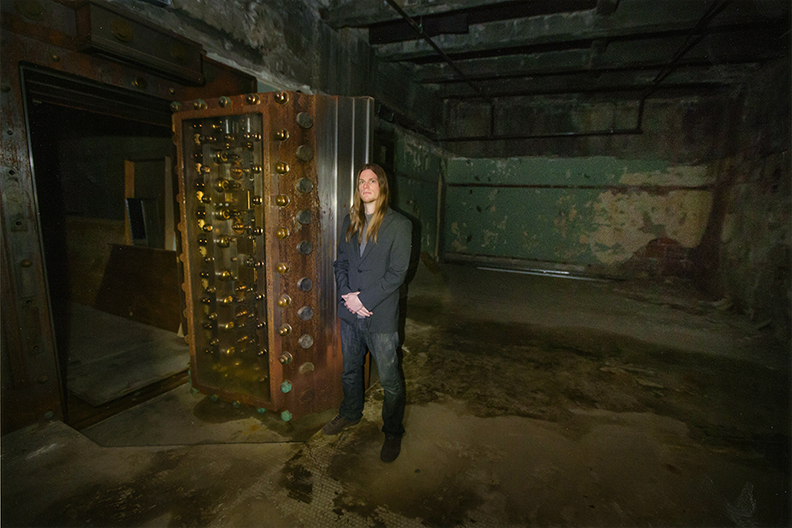 Phil Hawkins studio was located in the underground vault spaces of the 1600 Farnam Bank building which was built in 1917. The space was converted into a secluded art/work studio and venue for the arts. Phil was working from this vault space since 2010 up until April 2017.  After April 2017 Phil moved his studio space to the Capital district in Omaha, Nebraska. While having this creative studio Phil moved to Los Angeles to set up another art studio near dtla where he currently resides. Since July 2017 Phil has been working in LA and continuing his art involvements in the Midwest with The Bemis Center for Contemporary Arts yearly Annual Art Auction.